Star Assurance sets up an education fund at Children's Centre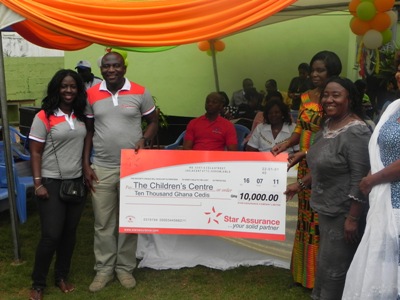 In the picture below are: Miss Panin Duffuor, Executive Director of Star Assurance, Mr. Moses Atobrah, The Marketing Manager of Star Assurance
and Mrs. Helena Kpatata the Head Mistress of the School.
Star Assurance has as part of its social responsibility supported the course of education over the years.  On the occasion the Children's Centre's 30th Anniversary Celebrations, Star Assurance donated a seed money of Ten Thousand Ghana Cedis (Ghc10,000.00) to start an Education Fund at the school. The school over the years has trained many pupils with some
occupying key positions in the country.

Presenting the amount, Miss Panin Duffuor, The Executive Director of Star Assurance, indicated she was excited to be a part of what was happening as she recounted fond memories of the time she schooled at the Centre.

The objective for this fund is to support brilliant pupils who may be orphaned or may suffer from any setback that could affect their
education. Star Assurance believes that every child has the potential to become a great person. However, challenges of life sometimes make it difficult for very intelligent people to even complete basic education. "We are giving this seed money with the aim of helping any child at the Centre whose education may be threatened by a misfortune''.

Apart from paying claims and earning an enviable rating from International Global Rating of South Africa and paying taxes to the Government of Ghana, Star Assurance sees Corporate Social Responsibility as a way of directly supporting the needy and vulnerable in society.